Zachary Chang solo exhibition:Liberation in Shang

[2017-9-25 19:18:53]

【展讯】张智罡个展"解脱"29日在北京上苑艺术馆




Zachary Chang solo exhibition:Liberation in Shangyuan Art Museum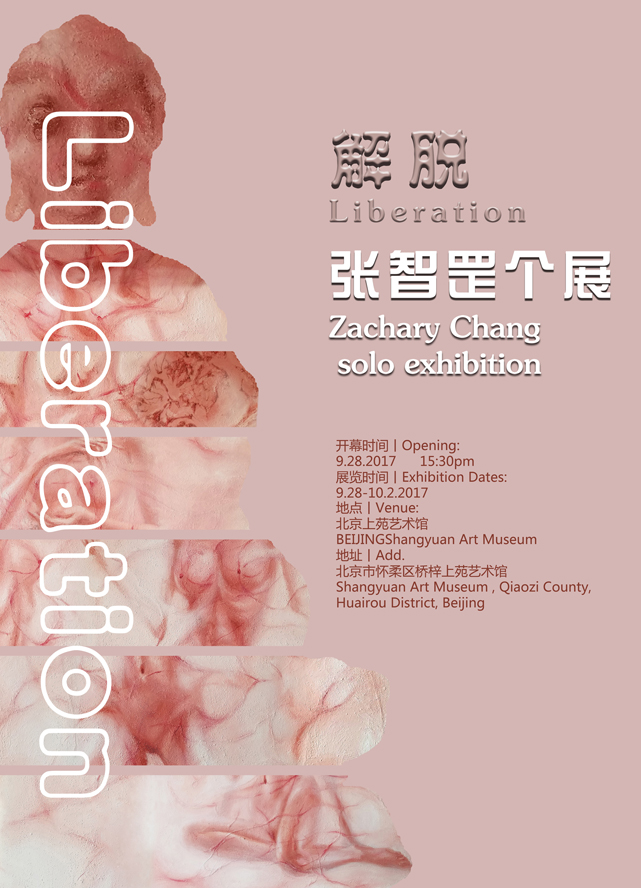 艺术家| Artist:张智罡Zachary Chang
开幕时间| Opening:2017.9.28 15:30 pm
展览时间| Exhibition Dates:9.28- 10.2.2017
地点|Venue:
北京上苑艺术馆BEIJING Shangyuan Art Museum
地址|Add. 北京市怀柔区桥梓上苑艺术馆
Shangyuan Art Museum , Qiaozi County, Huairou District, Beijing
自述: 关于解脱
我知道,最痛最痒的是不能说的,那我们就说些不痛不痒的吧。
解脱是什么?
你最愉悦的事,是不是因为解开.....然后才快乐?
我在十八岁的时候就是这么认为的。
然后,我读到了这样的句子:成佛的愉悦类似于性的快感。于是我爱上了宗教。
在一个无风无雨也无性生活的日子,我遇到了密宗。
那天风不高月不黑,我遇上了我的师傅,此处隐去三百字。
那时,因为粮食还不是转基因的,食品还不是化学配比的,买菜刀还不用实名的,所以,对于解脱法门的修炼我还不是很认真。
年少无知的我,在经历苛刻的写实训练,画年画、还画死人照片,在经历了陈丹青所说的土油画之后,我忽然发现,我是不是要画点那种在历史上还没有好好表现的东西,我是不是要画点电脑、相机等现代科技所不能做的,我是不是要画点关于我们存在、关于我们这个浊世的抗争和思考……
于是,我开始了我的解脱系列的创作。
其实,那不是解脱,那就是解开,解开你和我心中的枷锁。
那枷锁锁住的只是一扇小小的门,其实,你有意,她就有情。
或许会流血........但那又何妨。
我不知道这是不是一种宗教的情怀,但我知道,那一定是一条通向自由的道路。
我不会娱乐至死,我的《解脱》系列中的金刚、度母更不会陪你们娱乐,因为他们都在奔向自由之门。
张智罡2017-8-8
Liberation
I know we can't talk about anything related to taboo subjects, so let's talk about something irrelevant .
What's liberation?
The happinest thing for you is that solving some problems that confuse you and then you will get pleasure from problem solving, isn't it?
At my age of 18, I thought so.
Later, I read the sentence: The pleasure that attainment of Buddhahood bring us is similar to that of sex. So since then, I fell in love with religion.
I met theTibetan Tantra on a day without wind ,rain as well as sex life.
At a not dark and gusty night, I met my master, and about this point I'd like to omit 300 words.
At that time, I was not serious about the practice of liberation, for the grain was not genetically modified , the food was not made from chemical raw materials,and people didn't need to register their real names when they bought kitchen knifes.
Young and ignorant, after the hard training of realistic painting and period of painting New Year pictures and even piactures of the dead as well as paintings called"low oil painting"by Chen Danqing , it dawned on me that maybe I should paint something that was not expressed well in history, do something that computer, camera and film and other modern technology cannot do, paint something about our existence, our defence and thought...
Then , I started to creat my Liberation Series.
That was not liberating, but breaking free of chains.
It was just a small door the chain locked and if you treated her with love, so did her.
Maybe you would bleed, but so what?
I dont't know whether it's a kind of feeling of religion or not, but I know it must be a path to freedom.
I won't amuse myself to death, neither will the Vajra and Tara in my Liberation Series because they are running to the door leading to freedom.
作品选刊: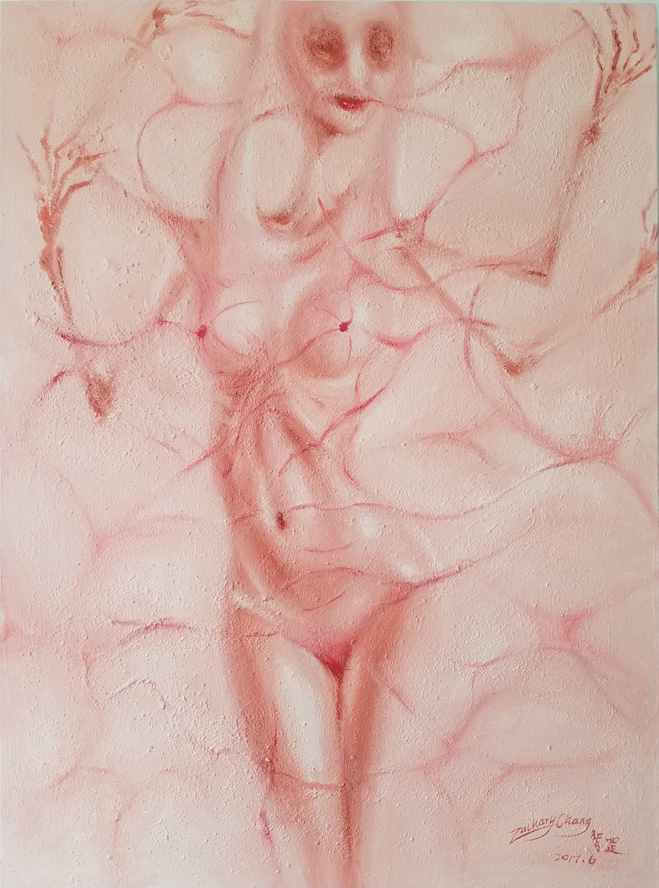 《解脱-SY4》规格:0.84×1.12米材料:布面综合材料油彩.年代:2017(上苑艺术馆收藏)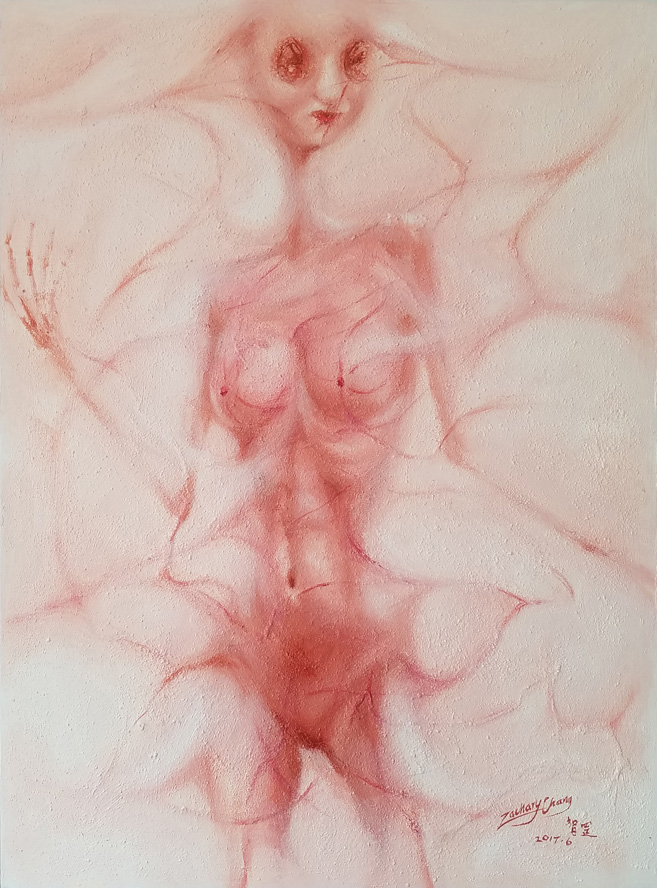 《解脱-SY5》规格:0.84×1.12米材料:布面综合材料油彩.年代:2017(上苑艺术馆收藏)
《解脱-SY1》规格:0.94×1.27米材料:布面综合材料油彩.年代:2017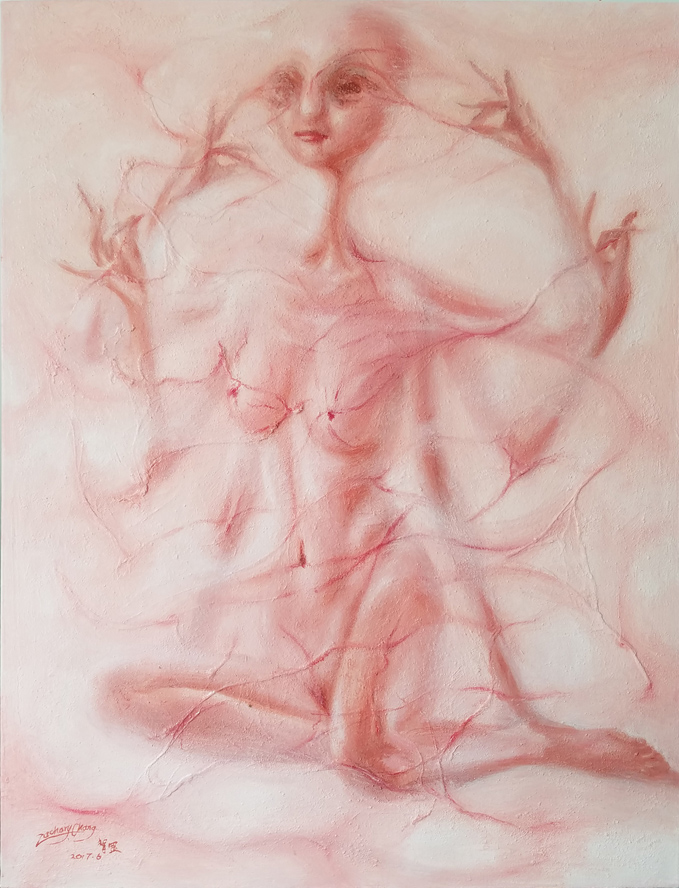 《解脱-SY2》规格:1.07×1.4米材料:布面综合材料油彩.年代:2017
《解脱-SY3》规格:1.07×1.4米材料:布面综合材料油彩.年代:2017
《解脱-SY6》规格:0.80×1.0米材料:布面综合材料油彩.年代:2017.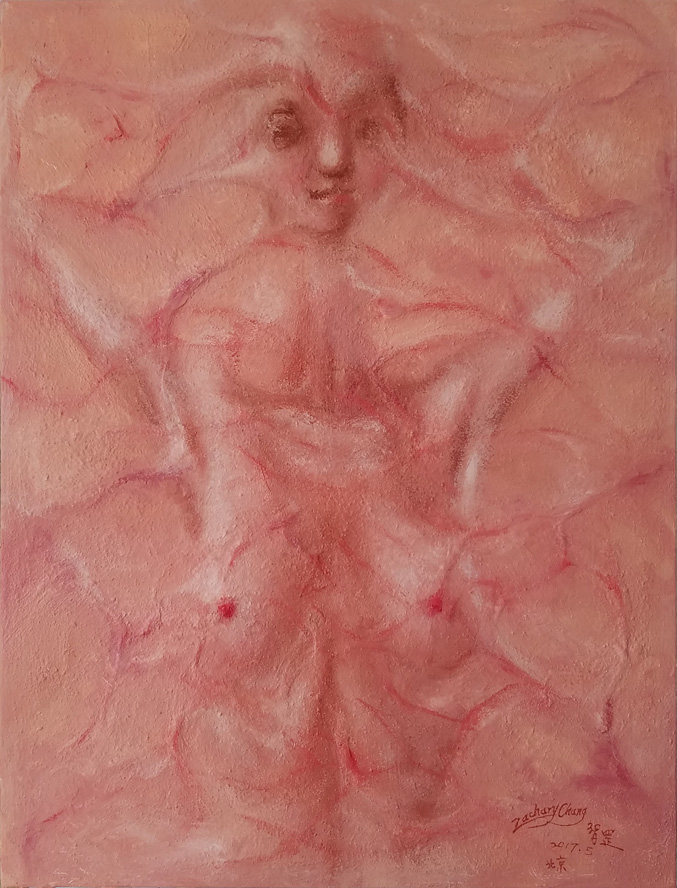 《解脱-SY8》规格:0.80×1.0米材料:布面综合材料油彩.年代:2017
《解脱-SY9》规格:0.80×1.0米材料:布面综合材料油彩.年代:2017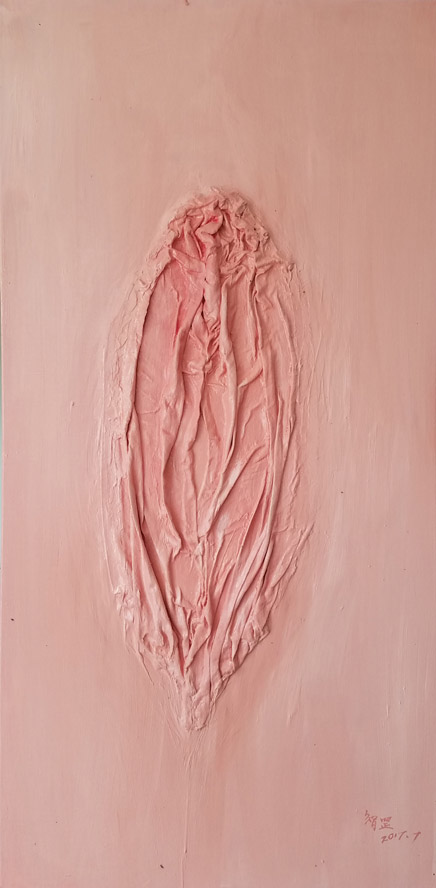 《解脱-无相04》规格:0.60×1.2米材料:布面综合材料油彩.年代:2017.7
艺术家简介
张智罡,英文名:Zachary Chang,1970年生,江苏苏州人。
中国油画创作研究院研究员。北京市文化局直属北京书画艺术院油画委员会委员。美国纽约湾美术家协会联络部副主任。
香港国际艺术学院客座教授。
主要展览及获奖:
2002年,大型不锈钢雕塑《螺旋与塔堆》被"海南省博士院士产业园"采用,设置于园区。
2003年,作品《UA》获"中国之星最佳设计奖"。
2012年,赴新加坡,创作《心灵的风景》系列作品。部分作品被香港藏家收藏。
2014年2月,入选中央美术学院"新西兰绘画交流团"赴新西兰绘画创作,并在丹尼丁国家美术馆进行了中新艺术交流访问。
2014年10月,北京"蓝调之寻"画展。
2015年2月,应邀赴法国参加法国艺术委员会及多家艺术机构的学术交流访问。
2015年5月,参加第56届威尼斯双年展(原肯尼亚馆联合参展艺术家项目)。
2015年9月,《涅槃》参加美国洛杉矶纪念反法西斯胜利70周年艺术展。
2016年2月,《解脱》参加美国纽约第一银行艺术展。
2016年4月,荣获艺起来2015年年度艺术家大奖。《解脱》系列作品同时启动全国巡展。
2016年9月,《解脱》入选美国第八届艺术奖(ArtPrize Eight)。
2016年10月,荣获美国Artavita第20届在线艺术奖。
2016年11月,《解脱》两组作品同时入选美国迈阿密艺术周。分别由瑞士Artbox和美国World Wide Art两家艺术机构选送参展。
2016年12月,《解脱》在香港大会堂展出,并获得大会金奖。
2017年6月,《解脱》作品入选瑞士巴塞尔艺术周。
Artist profile
Zhang Zhigang , English name Zachary Chang, was born in 1970, native of Suzhou Jiangsu.
Researcher of Chinese Painting Research Iinstitute.
Committee member of Oil Painting Committee of Beijing Painting and Calligraphy Arts directly under Beijing Municipal Bureau of Culture. Deputy director of Liaison Department of New York Gulf Artists Association ,America.
Visiting professor of Hong Kong International Academy of Arts.
Main exhibitions and prizes:
In 2002, large-scale sculpture works"Spiral and Tower"was adopted by the provincial government and set up at Doctor Academician Industrial Park of Hainan.
In 2003, works"UA"won the"Chinese Star Best Design"prize.
In 2012, he went to Singapore for painting his"Spiritual Scenery "series. Some of works have been collected by Hong Kong's collectors.
In Feb.,2014 he was selected into the "New Zealand Art Exchange Mission" of China Central Academy of Fine Arts to visit New Zealand for painting creation and the mission hold the art exchange activities in Dunedin National Gallery.
In Oct.,2014 Beijing "Searching for Blues"exhibition.
In Feb.,2015 he was invited to go to France to join the academic exchange activities with French Art Committee and several other art institutions.
In May., 2015, he took part in the 56th Venice Biennale.( joint participating artists project of Kenya Pavilion)
In Sep.,2015, "Nirvana" participated in the Los Angeles art exhibition for commemorating the 70th anniversary of the victory in the world anti-fascist war.
In Feb.,2016 "Liberation" participated in the art exhibition of Amerasia Bank, New York.
In Apr.,2016 He won the Topart 2015 "Annual Chinese Artist" prize."Liberation" series were displayed in the national itinerant exhibition.
In Sep. 2016 "Liberation"was selected into the ArtPrize Eight,USA.
In Oct.,2016 he won American Artavita 20th Online Art Contest prize.
In Nov.,2016 two paintings of "Liberation"series were both selected into the Miami Art Week by two art organizations, Swiss Artbox and World Wide Art.
In Dec., 2016 "Liberation" was exhibited at Hong Kong City Hall and won the gold award.
In Jun,2017 Liberation was selected into Swiss Basel Art Week.
编辑:马力
------------------------------------------
北京·上苑艺术馆 "国际创作计划"(艺术驻留) 常年接受申请
【上苑艺术馆】2016上苑驻馆艺术家作品认购价目表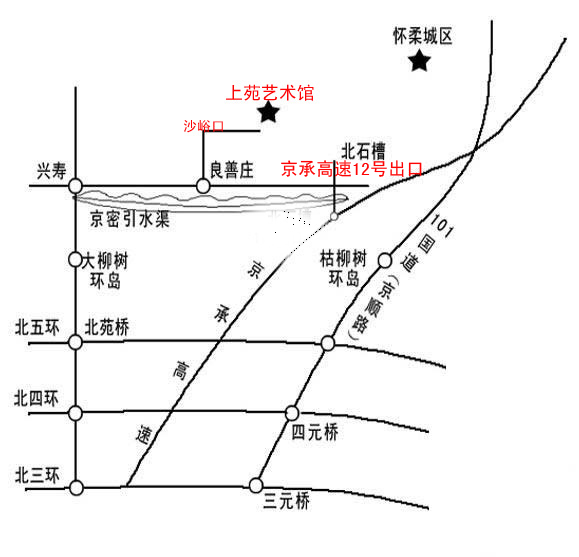 上苑艺术馆地图及卫星图
revealed 841 times